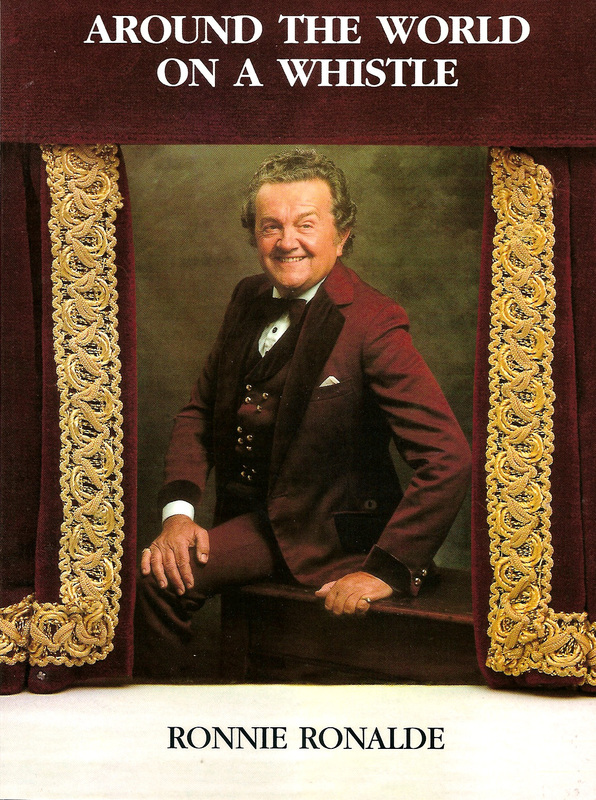 AROUND THE WORLD ON A WHISTLE
LONDON – NEW YORK – AUCKLAND – COPENHAGEN – SYDNEY – OSLO – AMSTERDAM – STOCKHOLM – NAIROBI – CAIRO – MALTA -DUBLIN – BELFAST – GUERNSEY – I.O.M. – JERSEY – ADEN – BENGHAZI
Ronnie Ronalde can celebrate over 1000 performances at Radio City Music Hall New York
Screen Legend Marilyn Monroe met some powerful men during her Hollywood days but it was Ronnie
Ronalde's whistling at RCMH that struck the right chord when the breathless platinum Blonde told Ronnie
that his whistling made her shiver, and shiver she did. Ronnie never forgot it
Roy Roger's horse Trigger was also affected by Ronnie's whistling, but how? well that's another story you'll
have to find out from the book.
The famous entertainer has spent his life travelling the world singing and yodelling and with his piercing
whistle performed with Duke Ellington, Sophie Tucker, Edith Piaf, Josef Locke, Olsen and Johnson, Julie
Andrews, Laurel and Hardy, Ginger Rogers, Tony Pastor, Cavan O'Connor, Arthur Tracey, Gracie Fields,
Max Bygraves, Benny Hill, Peter Sellers, Sir Harry Secombe, Sandy Powell, Catarina Valente, Neil Finn
and so many more.
Read all about Ronnie performing before Queen Elizabeth II and receiving his USA Hall of Fame Whistling
Award in Louisburg NC in his autobiography, 300 pages full of stories and pictures spanning over 60 years
of his theatre life around the world.
Simon Blumenfeld, writer for many years in "The Stage", after reading the autobiography, wipte:
"RON-DERFUL. I have read a number of stars' autobiographies.
This is among the very best."
RONNIE RONALDE • ROUTE 86
Code: 0793573 713469
Ronnie's music has always been fresh and original.
This new album presents a new style. Gone is the clipped, "BBC" accent of the early recordings
and in its place is the relaxed voice and whistling of Ronnie Ronalde 2010, clearly enjoying
himself.
The atmosphere of this album is almost as if Ronnie had come to your house to perform – just for
you.
It is a delightful mix of songs —singing, yodelling and whistling — some of them new to Ronnie's
recorded repertoire.
Songs:
Happy Whistler • Lara's Theme • 0 Sole Mio • Sanctuary of the Heart
Skaters Waltz • Echo Valley • Ave Maria • Danny Boy
Sorrento • II Bacio • Yodelling Rag • Sailor's Hornpipe
Aching Hearts • Happy Trails • Bird Lovin'
RONNIE RONALDE • AROUND THE WORLD ON A WHISTLE • VOLUME I
EMI 8146712
There can be many famous singers, but there is only one famous Whistler, Ronnie Ronalde."
Tony Potter of the Auckland News Media in an interview called Ronnie "The Pavarotti of
Whistling."
Romie Ronalde certainly has something to crow about and something to whistle about! He started
to perform in the early thirties and is still perfuming in the late nineties.
This compilation features many of Ronnie's earlier recorded songs and was put together at the
time of the publication of his autobiography "Around The World on a Whistle"
Songs:
The Happy Whistler • Il Bacio • Morning Star • One Brief Summer • Danish Rhapsody • Dream of
Olwen • Medley: Have You Ever Been Lonely !Tip Toe Through The Tulips / Who's Sony Now!
The Birth Of The Blues • Innocent Sinners • Safe In The Harbour • On The Quarter Deck • Largo
• Somewhere My Love • French Can-Can • Sea Shells • In A Monastery Garden • Silver Threads
Among The Gold • Bye Bye Blackbird • If Those Lips Could Only Speak • A Bird Sings •
Mackin' Bird Hill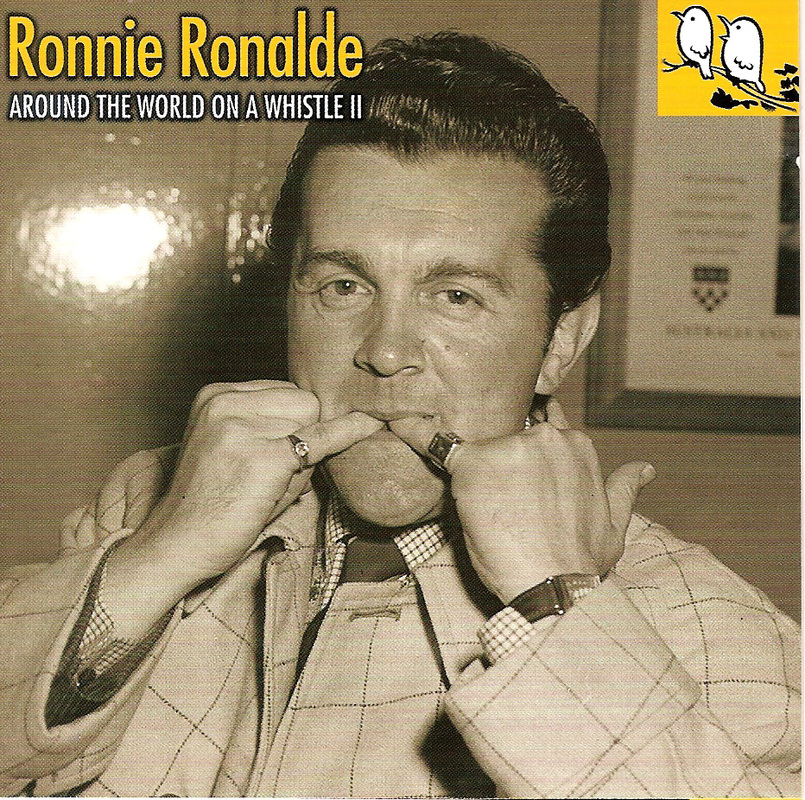 RONNIE RONALDE • AROUND THE WORLD ON A WHISTLE • VOLUME II
EMI 7243 5240 68 21
Following the success of Volume 1 EMI released this album featuring mostly singing and yodeling
tracks to show Ronnie's ease in which he could summon the amazing power and range from
operatic tenor to an unbelievable high falsetto. On this album you can hear his voice and perfect
diction of a trained singer.
This album also makes a feature of the art of yodeling which had always intrigued young Ronnie
and was first attempted by him within a Bavarian scene staged by Steffani with his "Silver
Songsters"; this love for yodeling grew to have him eventually acclaimed as one of the best
yodelers in England.
Songs:
Little Swiss Maid • Down The Trail Of Aching Hearts • Edelweiss • Down By the Old Zyder Zee •
Hair Of Gold, Eyes of Blue • The Umbrella Man • Where the Sweetheart Roses Grow • When It's
Springtime In the Rockies • Sweetwater Mountain • The World is Waiting for the Sunrise • I
Believe
• Love's Old Sweet Song • Waltz Medley • Ballad Of Davy Crockett • If I Were A Blackbird •
Happy Trails • A Wandering Star • A Bird Sings • You Always Hurt the One You Love • Alpine
Polka • Lonely Little Robin • Greensleeves • Mariandl • Yo Te Amo • Yodelling Rag • Lady Of
Lake Lucerne
• If Those Lips Could Only Speak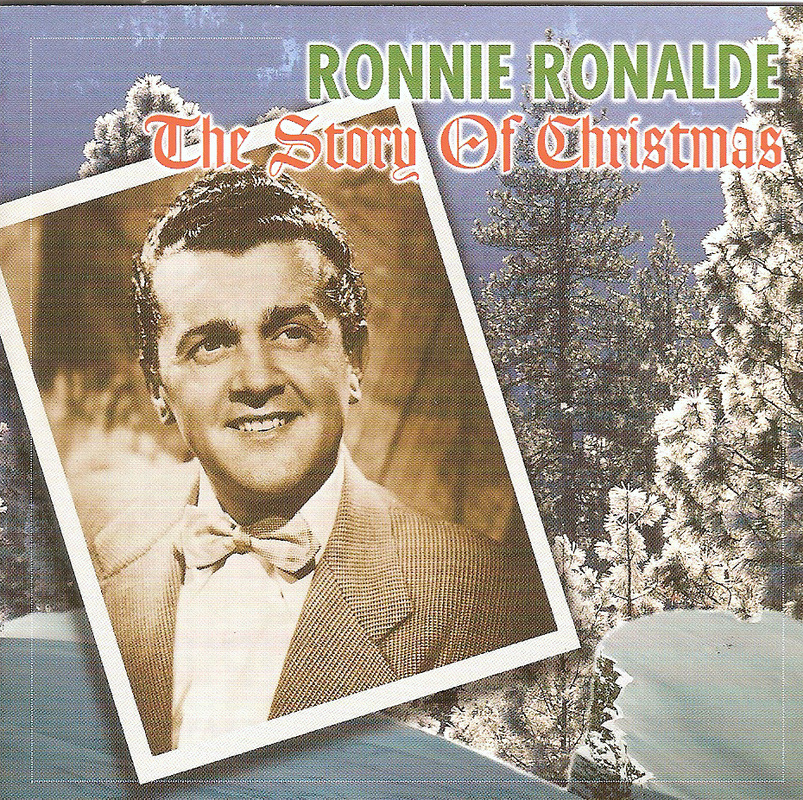 RONNIE RONALDE • THE STORY OF CHRISTMAS EMI 72435 2406722 / EMI 72435 4323621
The theme of this album is the traditional English Christmas. In the beautiful countries of Australia and New Zealand, Ronnie has always been told by ex-patriots and settlers, that, whilst they now embrace those countries as home, it is at Christmas that they most fondly remember England. Ronnie has always enjoyed performing Christmas music and his Christmas records were always very popular with the record-buyers as well as radio DJs.
In this album we have drawn together Ronnie's Christmas recordings to produce a programme that presents the breadth of music, emotions and activities with a typical 'Christmas in England'. The combination of snow scenes, merry-making, feasting and presents take their place alongside the reflection about absent friends and loved ones which is so dear to our hearts at this time. And running through the programme is the recurrent reminder of the wonderful 'Story of Christmas' and the spiritual sanctuary to Christians of all denominations through the birth of Christ.
Songs:
Christmas Lullaby • Christmas Tide • Christmas In The Village • MacNamara's Band • Little White Berry • Party Rhymes • Christmas At Home • Yodelling Rag • Forget Me Not • The Story Of Christmas • Grandfather Kringle • I left my Heart in an English Garden • Sanctuary Of The Heart • Good Old Christmas Day • Prayer In The Twilight • Tritsch Tratsch Polka • Ave Maria • Evening Chimes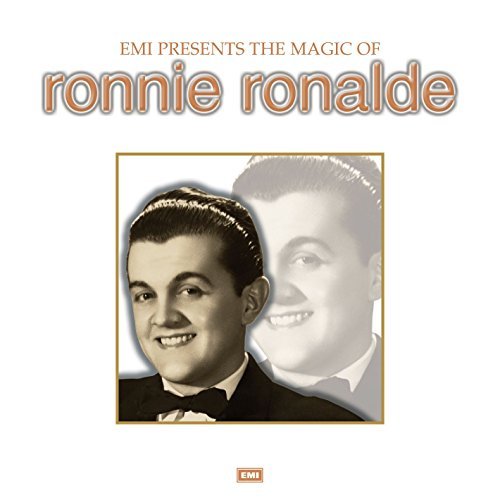 THE MAGIC OF RONNIE RONALDE
EMI 72435 31892 28
The release of this CD acknowledges the demands of the thousands who remember when Ronnie
Ronalde was just about as big a star in the UK as it is possible to be; when he was topping the bill
at major theatres around the world, appearing regularly on British TV and his records were being
played daily on BBC Radio's Light Programme.
This album lives up to Ronnie's reputation as "The Voice of Variety" where you can hear not only
Ronnie's unsurpassed whistling but also his many varied bird calls, yodeling and his classical
singing.
Songs:
If I Were A Blackbird • Skye Boat Song • Mockingbird Hill • Springtime • Bells Across the
Meadow • I Miss My Swiss, My Swiss Misses Me • I Found My Romance In Vienna • With All
My Heart • Song Of The Mountains (La Montanara) • On Wings Of Song • Last Night (The
Nightingale Song) • Rose Of The Mountain • The Yodelling Boy • Stars Are The Windows Of
Heaven • The Skaters' Waltz • Lo! Hear The Gentle Lark • Let Me Sing In Echo Valley • The
Yarmouth Song • The Song Of The Thrush • Swedish Rhapsody • Beautiful Dreamer • Mirabelle •
The Windmill Song • Down The Trail Of Aching Hearts • Soldiers In The Park • In A Monastery
Garden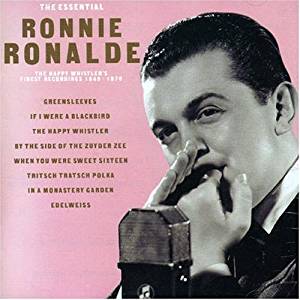 THE ESSENTIAL RONNIE RONALDE
EMI 09463 70235 25
To choose the program for this 2 CD set EMI tried to meet three criterias.
Firstly to provide insight into Ronnie's varied music.
Secondly to include a few of Ronnie's best known titles, and
Thirdly to make available some of Ronnie's most rare recordings.
EMI believed that in taking this approach they have come up with a program that has much to offer to
all of Ronnie's many fans.
Songs:
Happy Whistler • Greensleeves • If I Were A Blackbird • Little Swiss Maid • Sweetwater Mountain • Air
On A G String • When It's Springtime In The Rockies • Happy Trails • Innocent Sinners •
Medley: Foxtrot / Have you ever been lonely / Tip toe through the Tulips / Who's sorry now / The Birth
of the Blues • Ballad Of Davy Crockett • Buccaneers • Bird Sings • Memories Of You • Lonely
Goatherd • Down The Trail Of Achin' Hearts • Il Bade • One Brief Summer • Lonely Little Robin • If
Those Lips Could Only Speak • I Believe • Plaisir D'Amour • Dream Of Olwen • Down By The Old
Zuyder Zee • Edelweiss • Yo Te Amo • Morning Star • Medley: Waltz / Fascination / Melody of Love /
It's a Sin to tell a Lie / Mistakes / Charmoine • World Is Waiting For The Sunrise • Mountain Climber •
Largo • Romeo And Juliet • Hair Of Gold Eyes Of Blue • Liebestraum • Sanctuary Of The Heart18.
Lady From Luxembourg • You Always Hurt The One You Love • Somewhere My Love • Love's Old
Sweet Song • Panis Angelicus • Tritsch Tratsch Polka • When You Were Sweet Sixteen • Mariand •
Wanderin' Star • Pleasant Peasant • Umbrella Man • Because • Swedish Rhapsody Op 19
(Midsommarvaka) • In A Monastery Garden